Rock Of Ages Success at AIMS Awards!
Last weekend, we were thrilled at attend the annual AIMS (Association of Irish Musical Societies) Awards in Killarney. The ceremony recognises talent from Musical Societies all across Ireland and so LMVG were incredibly proud to have been nominated in 5 categories this year, including "Best Overall Show" for Rock of Ages. Thank you to EVERYONE who made this happen!!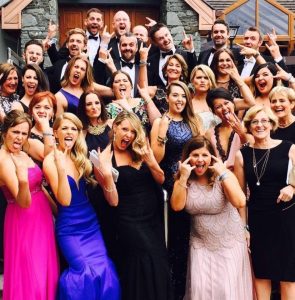 WINNERS
Best Choreography – Claire Tighe, LMVG Rock of Ages
Best Male Singer – Kevin Fagan, LMVG Rock of Ages (Drew)
RUNNERS UP
Best Female Singer – Orla Jennings, LMVG Rock of Ages (Sherrie)
Best Ensemble – LMVG Rock of Ages
Best Overall Show – LMVG Rock of Ages
A HUGE CONGRATULATIONS to all the nominees and winners from all the other societies, for their very-well deserved awards. In particular to Harolds Cross-Tallaght & Tullamore Musical Society for their amazing Best Overall Show awards!
For a full set of winners in various categories, visit the AIMS website here.