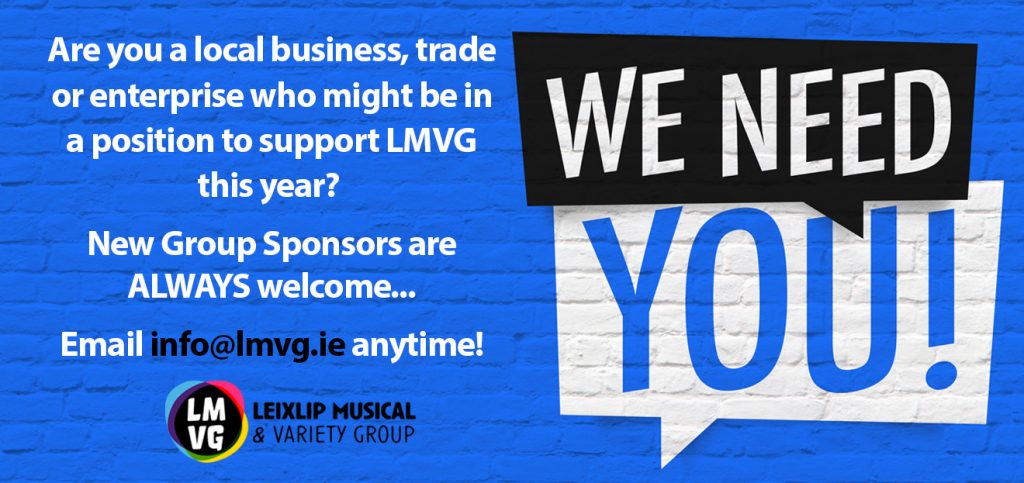 Leixlip Musical & Variety Group is very proud of all our loyal Patrons and Sponsors who continue to help us invest in new work and new talent. Individuals, couples or families who want to feel part of LMVG and make a real difference to what we do, are welcome to come on board! It's for people or businesses who want to enjoy a special relationship with the LMVG family and who in return play a vital role in supporting our activities and productions.
---
Gold Sponsors
---
Silver Sponsors
---
Current LMVG Patrons
Bernie & Jim Brennan
Carmel Dunne
Kathleen Hynes
Thomas & Phyllis Heffernan
Joe & Laura Bergin
Gerry & Eileen Brangan
Máire & Ciarán Austin
Con & Rosemary Deasy
Paul & Phyllis Martin
Enda & Peggy Smith
Robbie & Gill Martin
Marie Kelly
Chris Lundy
---
Become an LMVG Patron
All members of LMVG are voluntary and all funds raised from our shows, fundraising events, Patrons and Sponsors are used exclusively for future productions and shows.
For only €80 for one year, Patrons enjoy the following;
2 Free Tickets to every LMVG production that year
Listing as a Patron on our website www.lmvg.ie
Listing as a Patron in any LMVG show programmes
To become a Patron of LMVG simply download and complete the form available here, and return to any Committee member. Any queries can also be directed to info@lmvg.ie.